Divorce for a grandmother, in feudal China, seemed out of the question, without humiliating repercussions, but for her granddaughter and many other Chinese women living in the "Me Generation," it is an acceptable norm, resulting in a gradual rise (17 – 20 percent annually) of the divorce rate in China.
In her grandmother's generation, women followed the forced tradition/bondage that left no respectable options, except to "be married until your hair turns white." A woman's purpose was only to bear children, and if barren, she lived an outcast's life of shame, and if divorced, received the nickname "po xie," meaning "old shoe."
Fast forward to 1949 – a turn of events changed the roles for women. The Communists took control of China. The ban on arranged marriages, child marriage, concubines and the 1,000-year old foot binding practice became law. The restriction no longer remained that prevented girls from attending school and learning written Chinese. These girls developed into women full of ambitions.
The percentage of women in China's workforce, previously 20 percent in the 1950s, accelerated to over 44 percent in 2010, and seventy-five percent of Chinese women began seeking top corporate positions. Often, this created marital tension and a longing for an escape.
Prior to 2003, a divorce required written permission from an employer or neighborhood committee. The revision of the marriage and divorce laws in 2003 removed the requirement, allowing couples with a mutual agreement, to end their marriage. Consequently, the divorce rate in China began to increase.
The family planning "One Child policy," enacted in 1979, left many men unhappy without sons. Women became more independent, earning more money. The popular "Chinese – Style Divorce" soap opera naturalized the separation of couples and the ending of a marriage and the highly publicized "Lightning Weddings and Divorces" ushered in the 2003 revision with open arms.
Today, it is easier to obtain a divorce in China (cases are now more than 5,000 per day, the highest amount is in Beijing), but each party must agree, or the party desiring a divorce must prove that their spouse has cheated on them or has a criminal record or a gambling addiction.
While these stipulations may hinder some break ups, the divorce rate in China continues to increase as many of the post-1980s generation men and women have higher expectations, focus on satisfying their own interests and live boldly with their contemporary values.
The divorce rate in India is increasing. Twenty years ago, Delhi had two divorce courts. Now there are 16. Then, figures were cited in single figures per 1,000 marriages, or 7.4 in 1,000. Today, it has become more convenient to express the figure as a percentage, or 1%.
Divorce rate in India arranged marriage
It is not unnatural to speculate whether the divorce rate in India is higher in arranged marriage compared to 'love marriages', those that have not been arranged. Opinion is divided on whether the increase in natural marriages is contributing to this dismal statistic. The Bombay high court concluded that love marriages suffer from a high divorce rate. Others attribute the increase to unrelated factors.
India is growing wealthier. Most of today's divorces in India are between thriving, middle class young people. Taboos are breaking and aspirations and priorities are changing. Fears of social isolation and a sense of duty towards the family members involved in arranging marriages are dissolving.
Divorce rate in India by state
Another contributing factor to higher divorce rates is the changing role of women in relationships. As women increasingly enter the workplace and earn higher salaries, their financial dependence on their partners weakens. Basically, women are in a position to tolerate less nonsense! This is evident by higher rates in urbanized areas like Delhi and Mumbai, compared to agricultural states like Punjab and Haryana. Here, still, divorce rates have gone up by 150% over the past decade. Kerala, the most literate Indian state, has seen a rise of 350% in the past ten years.
Divorce rate in India vs. USA and the rest of the world
Although the divorce rate in India is extremely low compared, say, to the United States, where more than half of marriages end in divorce, this is still a significant increase over the past two decades.
Sweden, Russia, the United Kingdom and Germany are on a par with the United States as far as divorce statistics are concerned. In these countries, the rates are cited as 55%, 43%, 44% and 40%. At the other end of the spectrum are Israel, Singapore, Japan, Sri Lanka and India. Israel and Singapore are in the range of 15-17%, while the other countries enjoy low, but increasing, rates of less than 2%.
Sources
While many claim that Christians divorce just as often as their non-religious counterparts, the truth about the Christian divorce rate in America is that spirituality does seem to influence the success of marriage.
According to Bradley Wright, author and university sociologist, Christians divorce just as much as anyone, but active Christians are a different story.
42% of Christians eventually divorce, a number just a little lower than the national average. However, it dips to 38% among self-identified Christians who attend church regularly.
Furthermore, not attending church seems to affect the Christian divorce rate just as much as religious affiliation itself. Among divorced evangelicals, six out of ten reported skipping church as a matter of course, as opposed to the three in ten who attended regularly.
In short: Religion won't save your marriage, but an active commitment to faith just might.
Which denominations are splitting up the most? Most Christian divorce rate statistics put evangelicals at the top of the list, followed shortly by Baptists, Protestants and Mormons. The lowest divorce rates come from Catholics and Lutherans.
Age is also a factor, with over 60% of Christians divorcees over the age of thirty. Location plays another part, though the worldwide numbers don't fluctuate as much as you'd think. For example, Christian divorce rates in Australia mirror the US, though they're also enjoying falling divorce rate overall since 2001.
According to the Barna Group, a religious polling group, the Christian divorce rate also depends on how you define "Christian." Barna's findings classify all Christians as "born again" if they self-identify with the religion and claim to have accepted Jesus as their personal savior. Evangelicals, on the other hand, must meet several requirements to define themselves as much, including accepting the Bible as fact.
These measures aren't without controversy, but David Kinnaman, Barna's president, says it's the best they can do with such a tricky topic.
"We've tried to measure it based on theological perspective," he noted.
It isn't a perfect system, but with clear numbers and percentages, it goes a long way towards shattering Christian divorce rate myths, and for now it's the best we have.
The United States of America has a divorce rate of 4.95 per 1,000 people, making it #1 in the world according to Nationmaster.
To put this rate in perspective, USA's closest northern neighbor Canada has a divorce rate of 2.46 per 1,000 people. You are 2x more likely to be divorced in the USA than Canada.
It is quite shocking to believe that two neighboring countries have such different rates of marriage success.
The Census department also publishes a comprehensive annual document called the 2012 Statistical Abstract, which provides accurate data on the United States divorce rate. Inside, you can download the divorce rate PDF document to see a complete breakdown of divorce rates by state from 1990 to 2009.
Graph: Divorce Rate in the United States of America Over Time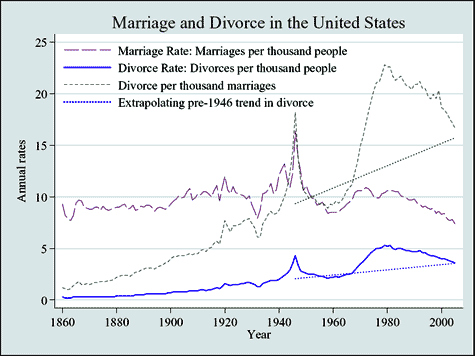 So how does the USA measure up in terms of divorce rate by year? Amptoons posted an incredible graph via The Journal of Economic Perspective that provides a keen insight into marriage and divorce rates in USA from 1860 to present.
The graph shows that both marriage and divorce rates have been falling fast since 1980 as  we continue more into the information age. Perhaps this shows that marriage is less significant in modern day society than money and education.
Women's liberation means working a full time job that provides income is more important than settling down and finding a good provider. Marriage is certainly not dead, but it is becoming way less important than it was just 30 years ago.
Divorce Rate in United States of America by State
Mentioned below is a table that highlights geographic variations in divorce in the United States. All figures are based on national, regional, and state marriage breakup rates per 1,000 men and women aged 15 and over in 2009. Data is collected by the U.S. Census Bureau, American Community Survey.
The overall rate of divorce in America in 2009 for men is 9.2 and the same for women is 9.7. For northeast region, the rate for men and women in 2009 is 7.2 and 7.5 respectively. For Midwest region of America, the rate for men and women in 2009 is 9.1 and 9.2 respectively. In the south region the rate for men in 2009 is 10.2 and that for women is 11.1. Lastly, the rate in the western region in 2009 is 9.2 and 9.8 for men and women respectively.
| State | Men | Women |
| --- | --- | --- |
| Alabama | 12.7 | 13.9 |
| Alaska | 12.5 | 16.2 |
| Arizona | 10.8 | 11.9 |
| Arkansas | 13.5 | 12.8 |
| California | 8 | 8.9 |
| Colorado | 11.6 | 9.4 |
| Connecticut | 6.7 | 10.7 |
| Delaware | 8.9 | 8.7 |
| District of Columbia | 6.3 | 8.3 |
| Florida | 8.5 | 9.9 |
| Georgia | 11.5 | 11.7 |
| Hawaii | 8.3 | 7.8 |
| Idaho | 7.7 | 9.7 |
| Illinois | 8 | 8 |
| Indiana | 11 | 10.7 |
| Iowa | 10.2 | 10.8 |
| Kansas | 10.6 | 10.2 |
| Kentucky | 12.6 | 13.5 |
| Louisiana | 11 | 10 |
| Maine | 13 | 9.1 |
| Maryland | 8.8 | 8.2 |
| Massachusetts | 7.8 | 7 |
| Michigan | 9.2 | 9.3 |
| Minnesota | 7.4 | 7.8 |
| Mississippi | 11.1 | 12.5 |
| Missouri | 9.5 | 10.4 |
| Montana | 9.1 | 11.1 |
| Nebraska | 8.8 | 9.8 |
| Nevada | 12.3 | 12.3 |
| New Hampshire | 10.1 | 9.6 |
| New Jersey | 6.1 | 6 |
| New Mexico | 10.2 | 10.1 |
| New York | 6.6 | 7.3 |
| North Carolina | 9.9 | 10.3 |
| North Dakota | 8 | 8.3 |
| Ohio | 9.5 | 10 |
| Oklahoma | 12.8 | 14.1 |
| Oregon | 10.4 | 11.4 |
| Pennsylvania | 7.7 | 7.4 |
| Rhode Island | 9.4 | 9.5 |
| South Carolina | 8.1 | 7.8 |
| South Dakota | 10.9 | 8.9 |
| Tennessee | 11.4 | 11.6 |
| Texas | 10 | 11.9 |
| Utah | 10.2 | 10.8 |
| Vermont | 9.6 | 11.5 |
| Virginia | 8.9 | 10.2 |
| Washington | 10 | 10.6 |
| West Virginia | 10.9 | 11.8 |
| Wisconsin | 8.3 | 7.5 |
| Wyoming | 10.3 | 10.7 |
Source: U.S. Census Bureau, American Community Survey, 2009.
Big Change: United States of America Divorce Rate in 1950 vs. 2012
America has changed immensely over the past 60 years and one of the biggest changes is the large increase in marriages ending in divorce.
In the 1950's the divorce rate in the United States was around 14%. By the mid-seventies, no fault divorce laws had been adopted in most states across the country and the number of marriages decreased by 30%, while the number of divorces had risen to nearly 40%. Since that time, the divorce rate in the U.S. has slowly risen to the point that many researchers now claim the overall rate of divorces has reached 50%, or half of all marriages in the nation. Some recent research suggests that the 50% divorce rate does not represent all the various groups within the U.S. population and that the actual divorce rate is now lower than it was in the mid-1970's in some specific sectors. (Source: Divorce.com)
Modern day society and its hectic nature provided the following changes since the 1950′s that caused a huge increase in divorce rates:
Birth Control – Studies show women on birth control become attracted to less masculine men due to the hormone disruptors. Once married, many women stop taking birth control to have a baby, but suddenly find their husbands unattractive. This leads to many divorces due to lack of attraction.
Female financial independence – Many women marry for financial reasons such as stability and a good home for her children. Affirmative action opened many doors for women in the workplace and gave them incentive to file for divorce much quicker than in the past where a woman's financial prospects were greatly limited.
Railroad and Airplane expansion – Transportation became much more efficient over the last 60 years and Americans often relocate to different cities for work related reasons. This causes lots of marriages to break up due to unsuccessful long distance relationships.
No fault divorce – Courts now allow women who initiate 80% of the divorces to file for separation without any legitimate reason. Boredom, adultery, real estate, and/or other reasons may encourage the unhappy party to divorce their spouse. Lawyers now support this practice and the United States court system depends on the consistent family law revenues to maintain proper function.
Zero social stigma – In many foreign countries, divorce brings shame to the family and it is highly frowned upon. American society is very liberal about marriage, and there is zero social shaming when it comes to divorce.
 Divorce Rate in United States of America by Race
New research from the National Center for Family and Marriage Research (NCFMR) at Bowling Green State University shows there is  substantial variation in the first-time divorce rate when it is broken down by race and education.
| Race | First Time Divorce Rate (per 1,000 women) |
| --- | --- |
| White | 16.3 |
| Black | 30.4 |
| Hispanic | 18.1 |
| Asian | 10 |
These studies correlate with the generalization that black women are more strong and independent than other women. If you plan to get married, you have the highest rate of marriage success if you marry an asian woman.
More Interesting Facts: US Divorce Rate is Higher in the South
Sources:
http://www.divorce.com/article/rising-rate-divorce
http://www.bgsu.edu/offices/mc/news/2011/news103463.html
The state of Maryland ranks 46th in the United States of America, making it the fourth lowest in the entire nation.
Studies show the divorce rate in Maryland, USA is 9.4%.
Researchers suggest a struggling economy and expensive divorce costs are helping to keep marriages together. People who live in the Northeast region of the United States tend to get married at a later age and divorce less.
Personal Thoughts about the divorce rates in Maryland
Maryland is also the home of many high class wealthy professionals who work in Washington, DC. They tend to earn more money, get divorced less and generally marry for financial reasons.
Living in the DC-MD area for almost 20 years provided me with great insight into this matter. All in all, the DMV area is one of the safest to get married in if you want to avoid a nasty divorce.
Sponsors – Need a divorce lawyer in Maryland? Advertise Here
Sources:
http://www.nbcwashington.com/news/health/Divorce-Rate-Falling-138929519.html
There are many possible reasons why the rate of divorce is increasing worldwide. This is despite the fact that divorce is a huge stressor that puts two people (and their children) through a difficult time dividing assets and dividing up families. The truth is that some people realize that divorce is the lesser evil. It's more preferable than staying in a marriage where one or both of the married couple is unhappy.
One reason why in general, marriage divorce rate worldwide is rising (with the US as one of the countries with the highest divorce rate) is that in many parts of the world, divorce laws have become more lenient than before. The divorce rate world just shows how many people think that they will be better off dissolving the marriage than staying in an unhappy marriage. In the US, all states have already adopted a no-fault divorce law. Prior to this, people who wanted to get divorced should have a "good enough" reason for wanting it. Somebody has to be at fault (mentally incapacitated, cheating, lying, beating the other up, etc) for divorces to be accepted in court. With the no-fault divorce law approved in all states, people can get divorced amicably when both of them that the marriage is already irreparable.
Another possible reason is that the number of women pursuing their own careers has something to do with the increasing marriage divorce rate in the world. Many years back, men and women enter into marriage with a clear idea of their roles on their minds. Now women want something more. Most of them want to have a career too instead of just staying home to take care of their husband and kids. It puts a strain on the marriage when husbands have trouble accepting this, or when women are having trouble with the demands of both worlds. In other words, men rarely worry about having to juggle children, spouse and career, unlike women who almost always need to worry about this.
The third reason is that the world has also changed a lot in the past few years. Many people are already becoming more accepting of the concept of divorce. They don't really judge people who get divorced unlike before. As a result, people who want to get divorced are less likely to take into consideration the stigma of being divorced. It's now a lot easier to adjust to a different lifestyle because many family and friends are becoming supportive and accepting of the idea.
The fourth reason is that these days, there are many ways to help a person after divorce. There are support groups specifically for divorce, counseling and therapy and even divorce fairs. Men and women are less afraid of going through a divorce now than they were before.
The fifth reason could be the fact that divorce is portrayed very differently on TV and movies these days. Perception counts for a lot and when people see famous actors and actresses get divorced, it glamorizes the concept a little. At the very least, the common stereotypes about divorce doesn't hold true anymore.